"Deluxe Custom Cowboy/Indian Rocket Bike"
$10,000
Old fat tire bicycle tricked out with a saddle. I am northern born, southern raised, and western souled. I had many American made hotrods in my youth, and your ride is your statement.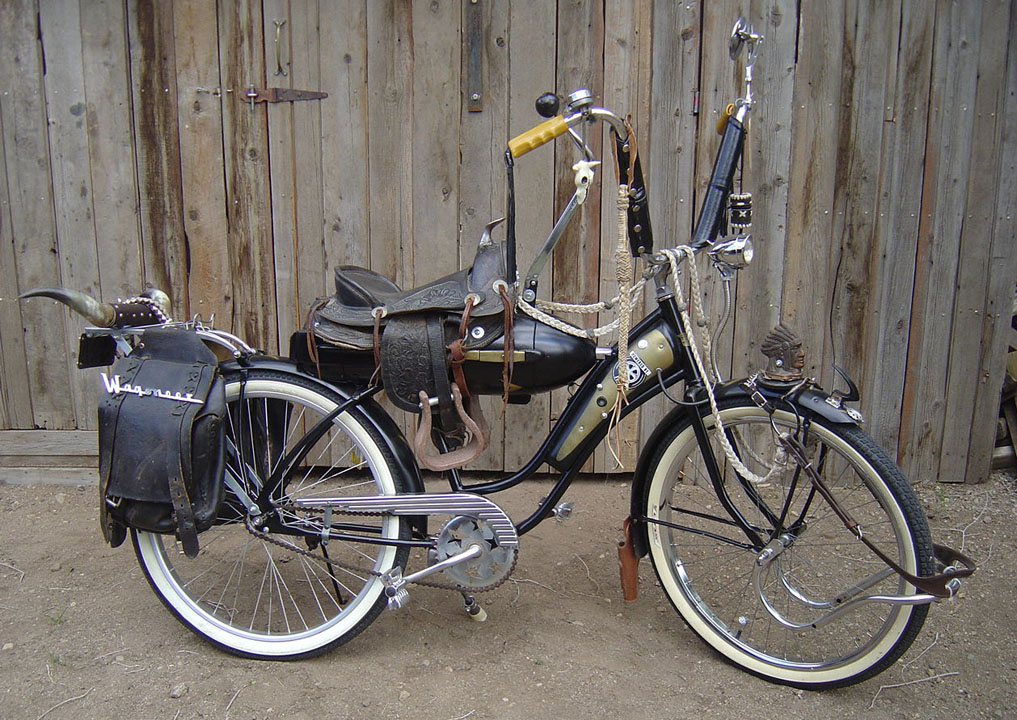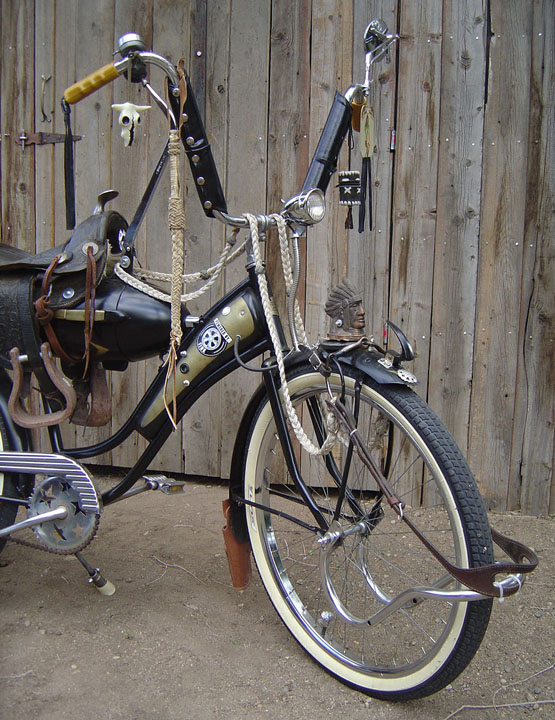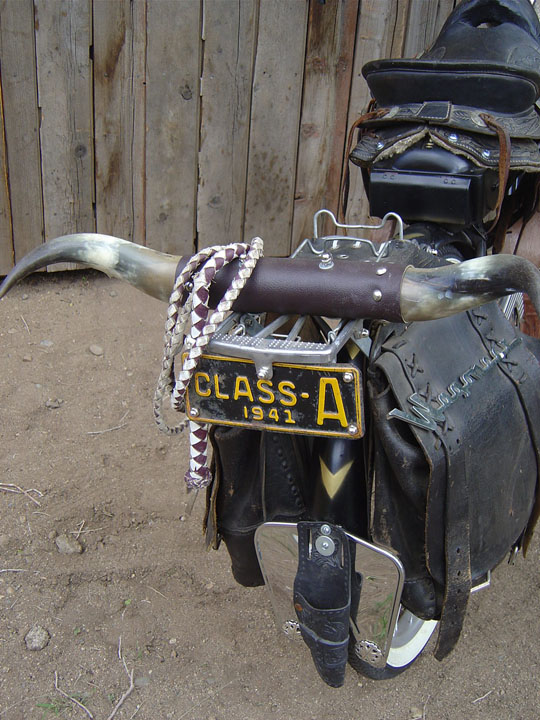 This bike was built after I moved to Colorado. I found this Zenith at an antique shop in the snow, and transformed it into what you see here. I cut off the seat post and installed a 1952 Kenmore vacuum cleaner, and then the kid's saddle from the '50's. Super tricked out one of a kind, and weighs about 80 lbs.
Back in 1999, after a couple years building rocketships, I joined a classic bike club, The Bicycle Cowboys, in New Orleans. Cool folks who dressed cowboy and Indian style and would parade at Mardi Gras and other events, and rule the streets. Mardi Gras 1999 I rolled out my first custom vacuum rocket bike to an amazed crowd. It had an Electrolux tank that was hinged for carrying my liquor and belongings. It also had a cocktail shaker front headlight, special bumpers, and angel wing handlebars. Definitely got plenty respect from the krewe.
There is no welding in my work. I find parts that have never seen each other that mesh and form my style in a clean professional fit. My work neither contains nor depicts any form of guns, bullets, or bombs. They are for the peaceful exploration of time, space, ideas, and cultures. Recycling is a major key, and the finding of the raw materials is a large share of the end result, of which I am a professional in acquiring the vintage and beautiful in out of the way places.
After losing all at my former home and shop in New Orleans, including all my early art and my first 2 custom bikes, I have found that the world is still full of inspiration and the means to get to the realization of those visions. Traveling everywhere in America, I know I will never run out of raw materials from the golden age of American manufacturing. Though rockets are my specialty, I am not just the Rocketman, but a severe Re-Constructivist seeking the cool and inspiration. And a big inspiration is the style, mechanics, and beauty of classic American bikes.