---All Art Performance Videos/Pics/Events---
- Video introducing Jimmy -
*** NEW 2019-20 Arizona live events and art!!!
AZ - CENTRIC SERIES, LIVE ART BUILDS, 2019

"La Familia Humanidad"
48"x30"x4" $2500
Built live at Sculpture Tucson Art Fest, April 2019
VIDEO

"MEGA Inmigracion Ignorante" 48"x18"x6" $2500
Built live at Solar Culture Gallery,
Tucson, June 2019
VIDEO

"MAL-I.C.E. - From The Cradle To The Cage" 36"x30"x6" SOLD
VIDEO
Built live at B/Lending Forms Fringe Fest event, Steinfeld Warehouse Gallery, Tucson, July 2019

"Baby Talk" 26"x22"x2" $500
Built live at Bookmans Midtown in 10 minutes!!! Video

*3 pieces built in one week in Jan. with Creative Improvisor Composer Brandon Bergman, FringeFest Tucson

"Atasco Conexión" 40"x19"x5" $500
Built live at Cafe Passe in 2 minutes!!! Video

*3 pieces built in one week in Jan. with Creative Improvisor Composer Brandon Bergman, FringeFest Tucson

"Hermosa Buena Suerte"
46"x40"x5" $3500
Built live at the Sculpture Resource Center, Feb. 8, 2020 in 70 mins.Video 1 Beginning
Video 2 - FULL show
Video 3 - Ending
"Amalgamated Debris Assemblage"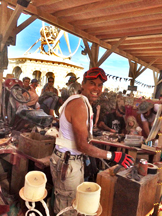 Guild, Burning Man 2016 (link)
I created the premise for facilitating 'artist participants' in making assemblage art out in the desert for a week! Our Guild consisted of 6 members, and camped with our friends and colleagues from Salida, brought literally a ton of raw materials, hardware, and blanks of wood for folks to work on. Our table was severely built by Guild member 'Justin Aleutian' and when all was done, we helped 350 pieces, and then tore it all down and burned it with the Man! The most severe live art event I have done so far. SCENE VIDEO !!!!
"The Bureau Burden Of Indian Affairs"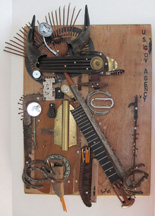 This piece was built in 90 minutes onstage in Salida for a free show, with a DJ, kaoroke drummer, and onstage paintist. This was by donation by patrons and silent auctioned. The Mayor bought it, and got a second piece of art, the title painting by Brink Messick, to match. After expenses, the balance of the door went to KHEN community radio, the free people's Clinic, and the nonprofit ArtWorks. The title refers to the pain of Native Americans dealing with white man's depressing and exploitive beaurocracy.
Feb 2012 Instant Art Event, Salida VIDEO---(still pics here)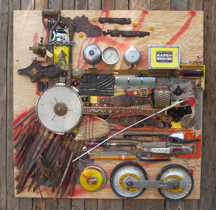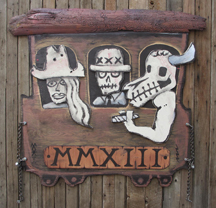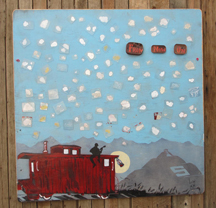 "This Train" 2013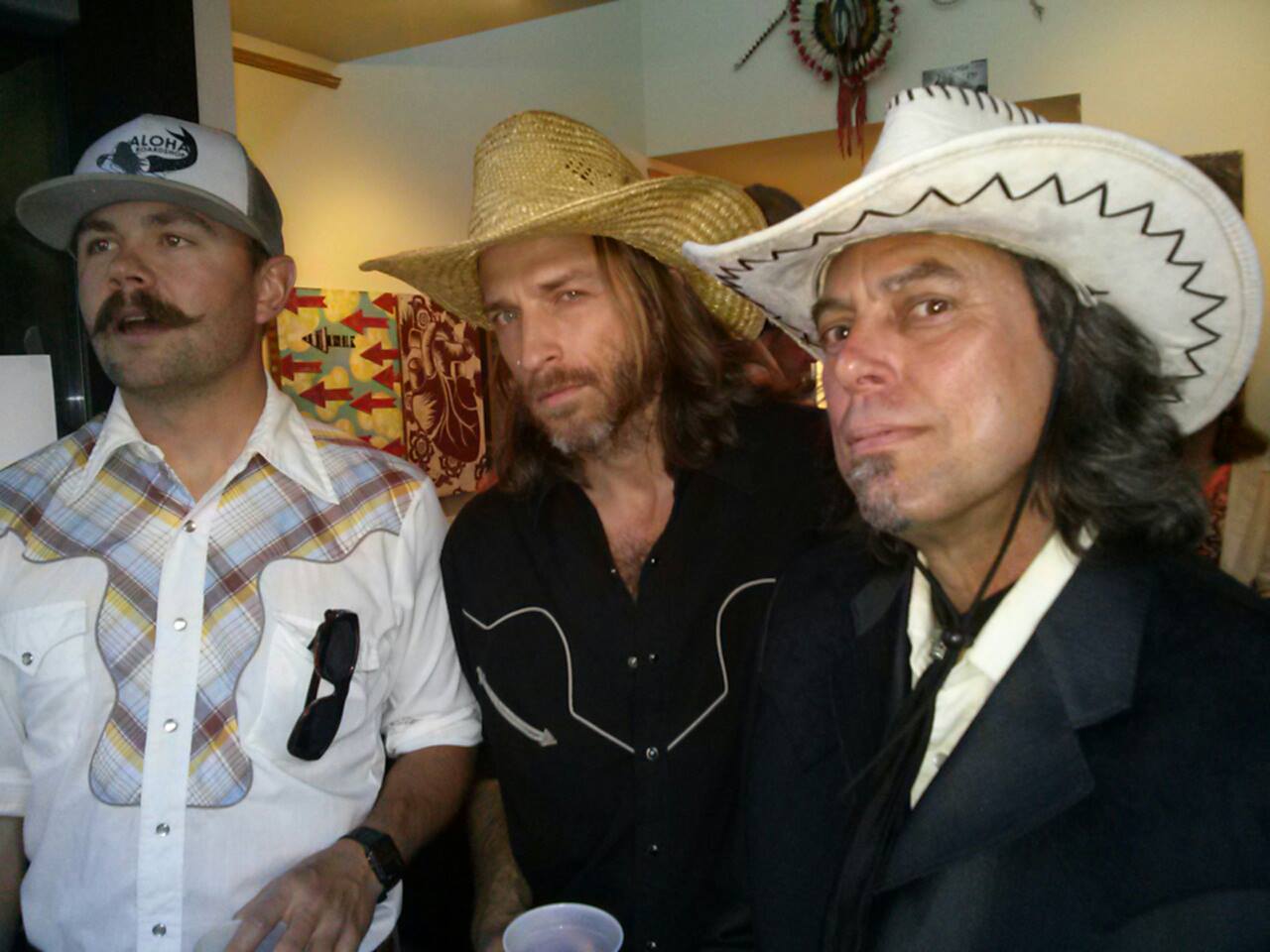 3 sections of a train, chained together, built onstage in Salida, CO. June 29, 2013 with Brinkley Messick & Mark "Eyeball" Kneeskern, in a 2 hour riotus event including DJ Dangerous Dave, Brian Rill, TR Price, Sandi Turvan - aerialist, and the Caboose Dancers. This art is 4.5'hx13'wx6"deep, and for sale at $7500.
RIP Mark... killed by a train in Iowa Aug. 31, 2014. Video is currently in production, Pics here

"ALT/WALK SALIDA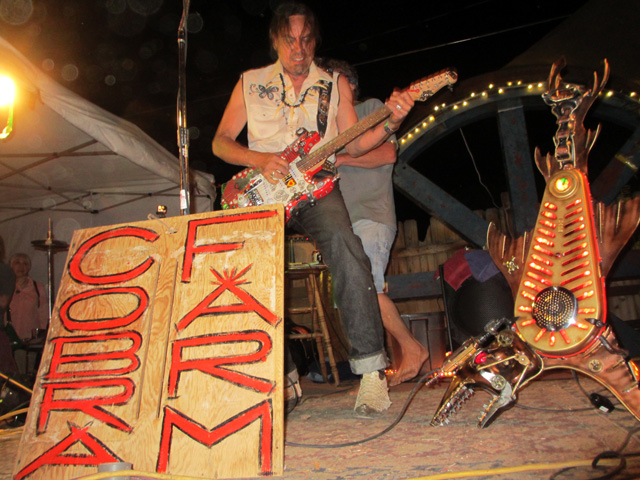 (page) June 27-29, 2014
by Jimmy Descant - Rocketman, and The Rogue Lot - Just Be. Man, Curtis Killorn, DJ Quicey Rit, Mel Lee, Shelby Cox, Mark "Eyeball" Kneeskern, TR, Brinkley Messick, DJ Dangerous Dave, The Space Cadets, Czestekov Sisters Sideshow, Shark
VIDEOS - Cobra Farm - Mark/Be.Man - SHARK - TR - Be.Man - Czestekov Sisters Sideshow - Space Cadets
"Skate You? Skate SIOUX!"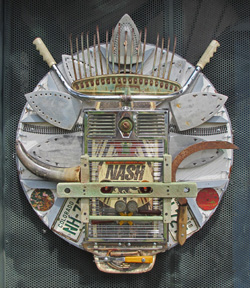 July 2014 with Walt Pourier, Stronghold Society, Denver Skatepark - Video
An all day Instant Art event for Native American kids being helped thru life by skateboarding and Walt, who is from the Pine Ridge Indian Reservation. He is trying to prevent Native teen suicides.
LOUISIANA SERIES -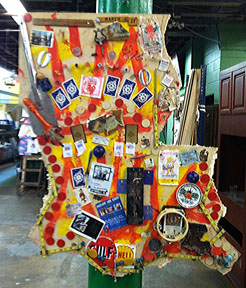 "HI'm Alive!" This piece was built onstage once again with DiNOLA for a benefit for the largest oldest AIDS awareness org. in the South, NO/AIDS Task Force, at the Green Project in New Orleans which never had such an event. The art will be auctioned off at the New Orleans Museum Of Art on Dec. 7 at thier massive yearly gala. Video to come - May 2013 Pics here
"Get Your Inside, Outside"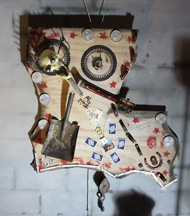 This piece was built in an hour show at Raphael Academy in New Orleans, as a fund raiser to build another school for autistic kids. Rocking out for the 2nd time with hard rock band DiNOLA. The title reflects on kids trying to make sense of the outside stimulus of the so-called 'real' world and the world they live in themselves.The event raised $10,000
May 2012 Instant art/DiNOLA/New Orleans/Raphael
"My Baser Self Lives Here"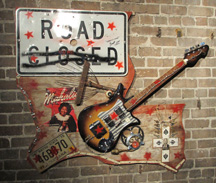 This piece was my first onstage mega event live art show with the band DiNOLA in New Orleans. I had an exhibition at the Ogden Museum Of Southern Art upstairs, and we rocked the live venue on a Saturday afternoon, and I donated the art to the Museum's permanent collection. The title refers to a hard living life in New Orleans before Katrina and now when I visit.
Jan 2012 Instant art/DiNOLA/New Orleans/Ogden Museum

"Instant Personal Art For The People"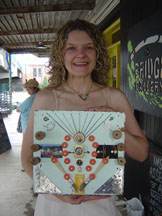 This event was me on a loading dock outside the gallery, working with tools, raw materials, and hardware; creating art from personal and found belongings of my clients that day. Each piece was rapid fire and took about a half hour. A train happened to be idling under the bridge all day too. I did 8 pieces for folks in 5 hours.
June 2010 All Day Instant Art , Smokebrush, Co. Springs
"Brink Of The Hydra"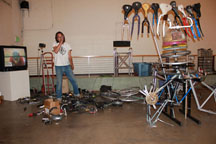 This event was commissioned by The Dairy Center in Boulder. They collected bike parts from all over town, from which I worked. They had 2 DJ's and visitors all day to watch something unbelievable! and auctioned off the finished work for charity.
St. Pat's Day, May 2012 All Day Instant Bike Art, Dairy Center Boulder
Sept 2012 Instant Art Event, CO. Springs, w/Grant Sabin "Yah-Ta-Hey, Unusurped"
This was performed in the parking lot on opening night of my Crutches show for 11th anniversary of 9/11. I took 8 vintage crutches and a vintage social studies project board from a friend's childhood and built this Native peace sign 'whirling logs' in front of a huge crowd who understood that it wasn't a Nazi swastika. At the end of the performance I had the audience write positive affirmations on strips of cloth and let them tie it to the finished sculpture, in an eternal wish for personal and worldly peace. The title is about the usurping of symbols for diabolic reasons, and I was giving it back to the peoples who knew it for communication and love in cycles.

"Conway Twitty and Bitty House City"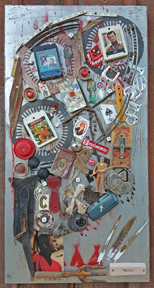 March 2016 Instant art event. Political/social statement of how country stars grew up in squalor, to rise above. The intent of new so called 'affordable housing' placed between stockyards and sewerage plant was really telling of the $ and powers that be, and how they treat the working people. March 2016 in Salida, CO. at the Emporium, with main man musician Cody Wayne of Alma, Mandolin Mike, and a cast of characters from Salida; Greg Walter, Brian Rill, Brett, Mohan, BeMan; adding to the mayhem of Instant Art and appreciation for country music. Thank you Miss Bonnie for being matriarch, and onstage personality, and helping women and families in need, and in transition.